From meeting room to presentations anywhere on the road The D552 SVGA digital projector with a contrast ratio of 15000:1 and 3,000 ANSI lumens of brightness will light up classrooms, meeting rooms and small boardrooms. Due to the integration of the Texas Instruments DLP BrilliantColor chip technology the D552 shows crystal-clear pictures, with deep blacks and brilliant colors. Vivitek's D552 is the ideal device for projection requirements ranging from presentations to movies. The Dynamic Eco Mode power management system saves energy consumption and increases lamp life up to 10,000 hours.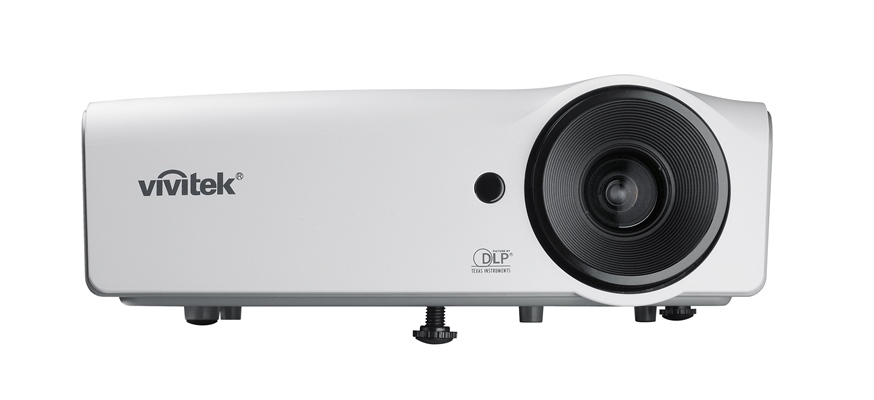 Key features
Native SVGA resolution with a high 3,000 ANSI lumens of brightness
High 15,000:1 contrast ratio ensures a crisp and sharp image
DLP® BrilliantColor™ technologies for excellent color reproduction
Connectivity options including: VGA-In, S-Video, Composite Video, and RS-232C
3D-Ready via DLP Link™
Audio ready with built-in 2 watt audio speaker
Convenient top loading design for easy lamp replacement
Energy consumption is reduced to less than 0.5W in stand-by mode
Energy efficient lamps that last up to 10,000 hours (Dynamic Eco. Mode)
5 segment colorwheel (RGBYW) for improved color brightness and automatic gain contro
Keypad lock prevents accidental system adjustments
Source filtering function to save time locating device signal source
Closed caption and rapid on/off feature

DLP® Technology
DLP (Digital Light Processing) is a display technology from Texas Instruments (TI). The technology inside is often referred to as DMD (Digital Micro-Mirrors). It consists of an array of mirrors where each mirror represents a pixel element. For example, a high-definition DLP projector or rear projector with 1920 x 1080 pixel resolution would have over 2 million tiny mirrors. Each mirror is attached to an electronically driven hinge that controls the amount of colored light that is reflected from

BrilliantColor™
BrilliantColor from Texas Instruments is a multi-color processing technology that produces vibrant images. BrilliantColor technology uses up to six colors, instead of just the three primary colors, red, green and blue, to improve color accuracy and brightens secondary colors.

3D Ready
A projector that is 3D Ready can accept a 120Hz frame-sequential 3D signal from a computer. These projectors are not compatible with the HDMI 1.4 3D specification used on 3D Blu-ray players and set-top boxes. 3D ready uses DLP Link Technology from Texas Instruments.

Filter-Free
DLP technology allows manufacturers to create a filter-free projection design. Filter-free means significant savings and lower maintenance efforts over the projector's lifespan, which means a lower total cost of ownership for the projector.